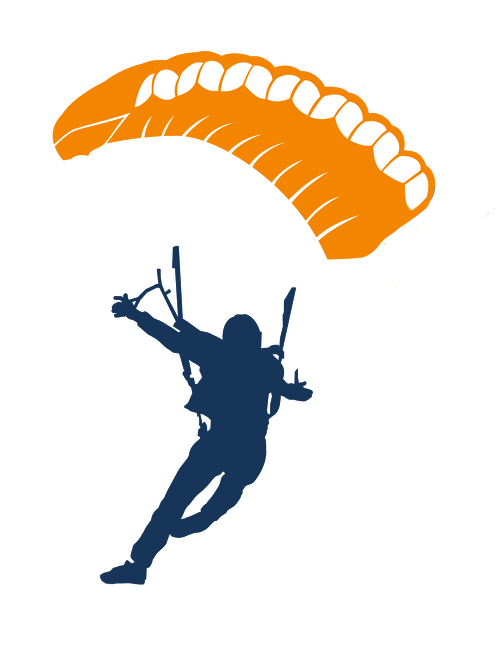 Parachuting

Tandem and Free Fall Courses
The Sky Dream Center arose in 2002 upon the desire of a group of friends, who wanted to begin again the skydiving activity in Cumiana, not only the ideal place where to fly and practice all the disciplines of Parachuting as Relative Work, Free Fly, AFF Courses, Static Line, Tandem but also a pleasant meeting point where to spend free time with friends.
Discover the

unique emotion

of a 4,000 metre drop!
A tandem jump is a fantastic experience that allows anyone to be introduced to the world of skydiving and experience the incredible thrill of flight. This is a parachute jump from a plane from a height of 4,000 metres.
The ascent in the plane lasts about 15-20 minutes, after the jump you will experience the thrill of going to 200 km / h for about 50 seconds, after the opening of the parachute you can enjoy 4-5 minutes of fun turns and spirals and then land gently on the grass.

TANDEM LAUNCH
Launch carried out with a qualified instructor

LAUNCH WITH VIDEO OR PHOTOS
Filming by an experienced
skydiver

LAUNCH WITH VIDEO AND PHOTOS
Filming by an experienced
skydiver
Discover our territory immersed in woods and nature, surrounded by vast spaces and wide valleys where you can grasp a naturalness that is almost unthinkable at such a short distance from the metropolitan area of Turin and that intensely and pleasantly surprises those who approach this territory for the first time, made of rocks, plants, water and wild animals.
Cumiana can be the base for multiple itineraries towards Turin, the Savoy residences, the Olympic valleys to spend your holidays in the midst of art and nature: the enchantment of memory, the beauty of the landscapes and the charm of traditions.
CONTACT US

FOR MORE INFORMATIONS